Daily Housekeeping - Daily Housekeeping is available to ensure cleanliness and hygiene.Our housekeeping staffs are well trained to make your stay comfortable and healthier with neat, clean and tidy rooms.
24 Hours Front Desk – Our Front Desk is at your service 24 hours a day. They are really doing everything possible to ensure you an extremely pleasant, welcoming, polite and friendly 1st class service.
Swimming Pool – Relax in the pool that is on the roof top of the property and views of the surrounding mountains. The pool is at a 4 ft depth with an infinity edge featuring hand carved pillars and traditional etched glass.
Library – We host a collection of historical and cultural books that portrays not only Nepal but the property itself. Enjoy loosing your self in these stories in a comfortable setting that takes you to by gone era.
WiFi - Wi-fi is available throughout the hotel. Wi-fi use is free of charge in designated areas, and available for a small surcharge throughout the hotel. Wi-Fi coupons are complimentary for our suite guests.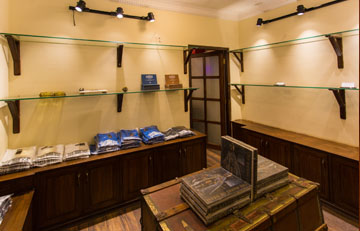 Shops – The Baber Mahal Vilas offers an extravagant collection of souvenirs that not only support our traditional Nepali artisans but provide ideal gift items to take back a memorabilia for yourself and your loved ones.